Ralph Martin's Cacti and Succulents For Sale or Swap
(within Great Britain only)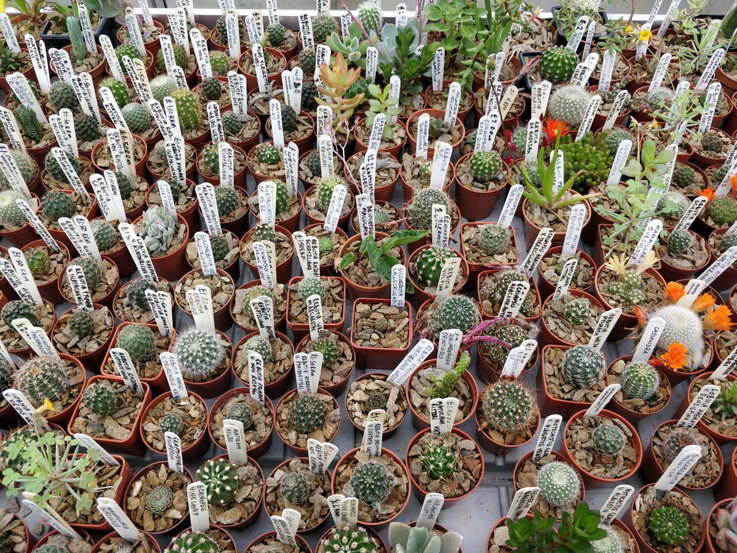 Plants are mainly rooted cuttings or seedlings; a few larger plants are duplicates from my collection. I prefer to swap plants and am happy to consider whatever you have; I particularly want these cacti and succulents, and books and journals. I am an amateur grower; these prices are intended to help cover my costs of producing the plants, not to make a profit. Most plants are in short supply, with just one or two available. This list is frequently updated as new items are added and others are sold.
Plants will be sent unpotted by first class post, at a fixed cost of £5 (any number of plants) to include packing, unless you request other arrangements (e.g. collection in person). The total cost will be confirmed after checking availability, and taking into account any other requests you make. You may pay with a UK cheque or Paypal. (If swapping, we will each pay our own delivery costs.)
The British Cactus and Succulent Society provide useful cultivation advice, also available as a free set of cultivation leaflets to new members. Please also feel free to ask me any specific questions you may have.
To order or suggest a swap, select the plants you want, fill in your personal details, and any notes, then click on the Place Order button.
This list was last updated on
Also see my list of journals for sale.
If you notice any problems with this page, would like to pay me a visit, or have any other queries, please email Ralph.
This page requires JavaScript to perform calculations. No cookies are used. All personal data are deleted after your order has been sent and payment received.
---