BORDER BRYOLOGISTS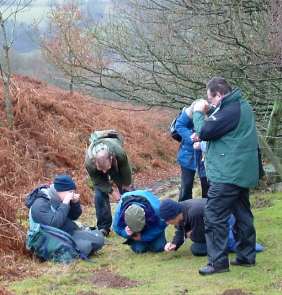 Our meetings are to help beginners learn their mosses and liverworts, rather than high-powered recording sessions. All are on Sundays, and start at 10.30 a.m. Please bring sandwiches.

You may wish to bring with you a copy of the British Bryological Society's Mosses and Liverworts of Britain and Ireland: a Field-guide (2010).

You are very welcome to suggest venues for future outdoor meetings; please include grid references and details for parking. In case of any queries, contact the group leader:

Mark Lawley,
12A Castleview Terrace,
Ludlow
SY8 2NG

Tel: 01584 876564   Email: mrbryology@gmail.com
2018
October 21st

Rhos Fiddle
We will explore wet upland heath at Rhos Fiddle, a Shropshire Wildlife Trust reserve. Take the Crossways road out of Newcastle-on-Clun, fork left at Caldy Bank and carry on for 2.25 miles. Park on the verge just before the second cattle grid (SO 205857).

November 25th

Shrewsbury
We will examine the bryophytes of Longden Road Cemetery in Shrewsbury. Churchyards and cemeteries can be as interesting for bryophytes as they are for lichens, and we hope to prove this point on the day.
The grid reference for parking is SJ 48546 11338. From the roundabout where the A5 and A49 meet on the south side of Shrewsbury, take the turn for A5112, also named 'Hereford Road' with signs for Shrewsbury. Continue along this road over a minor roundabout with a retail park on the right-hand side. At the larger roundabout named 'Meole Brace Roundabout' take the second exit left on to the B4380. Veer left by keeping in the left-hand lane, where signs will display Royal Shrewsbury Hospital. Continue along the B4380 until you reach a small (but often busy) roundabout and take the third exit. Shrewsbury Cemetery is the first right turn, and parking is immediately after the gates, with no need to continue along the small road within the cemetery.
2019
January 13th

Coed Pendugwm
Meet at Coed Pendugwm (SJ 103143), a Montgomeryshire Wildlife Trust reserve, where we will explore the deciduous woodland.

February 10th

Presteigne
Bryologists can often find many species in built-up districts, where pavements and tarmac, mortared walls, roofs and soil offer a variety of habitats. We will put this statement to the test by exploring Presteigne in Radnorshire. Meet at the car park by the B4355 at the west end of Presteigne (SO 309651).

March 17th

Bringsty Common
Joint meeting with Worcestershire Moss Group, when we will explore woodland, grassland and a marshy stream on Bringsty Common in east Herefordshire. If time allows, we may also visit the woods of Brockhampton Park on the north side of the main road. Turn off the A44 at a sign to the 'Live and Let Live' public house, and park at SO 698550.
The Mosses and Liverworts Of Shropshire
You may also be interested in purchasing a copy of "The Mosses and Liverworts Of Shropshire" by Mark Lawley (2013).
It has 133 pages, illustrated, including
a bryological travelogue of good localities
changes to the county's bryoflora
an annotated checklist of species
Shropshire's bygone bryologists
It is available at £19.95 including P&P from Mark Lawley at the address above
Wildlife in the Marches
Mark Lawley's new book "Wildlife in the Marches" (2015) contextualises natural history in the wider scope of social history.
The book can be ordered online from Amazon, or by post from Marches Publications, 12A Castleview Terrace, Ludlow, Shropshire SY8 2NG.
Please make your cheque for £34.50 (which includes £6 P&P) payable to 'Mark Lawley'.