BORDER BRYOLOGISTS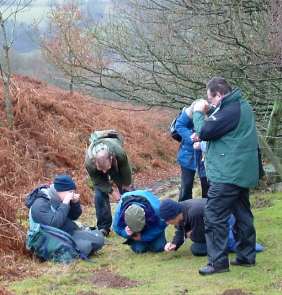 Our meetings are to help beginners learn their mosses and liverworts, rather than high-powered recording sessions. All are on Sundays, and start at 10.30 a.m. Please bring sandwiches.

Please let the leader know in advance if you plan to come to a meeting, as the government has implemented limits to the number of people allowed to attend meetings. These limits may change in future, and vary according to whether a meeting is in England or Wales.

You may wish to bring with you a copy of the British Bryological Society's Mosses and Liverworts of Britain and Ireland: a Field-guide (2010).

You are very welcome to suggest venues for future outdoor meetings; please include grid references and details for parking. In case of any queries, contact the group leader:

Mark Lawley,
12A Castleview Terrace,
Ludlow
SY8 2NG

Tel: 01584 876564   Email: mrbryology@gmail.com
2020
October 11th

Caynham
Caynham churchyard and Fort near Ludlow. Park in Caynham village (SO 554733). There is a layby near the eastern end of the churchyard, and we also have permission to use the gravelled area off the road at the western end of the churchyard. There is an arable field behind the churchyard that may be worth examining for annual species, and we could walk up to the hill-fort if time permits.

November 8th

Llanymynech Rocks
We will explore the limestone bryophytes of the Montgomeryshire side of Llanymynech Rocks, near Oswestry. Meet in the car park (SJ 271219) at the west end of Underhill Lane, off the A483 at the south end of Pant village.
2021
January 10th

The Doward
Ian Draycott has kindly offered to guide us over the limestone of The Doward in south Herefordshire. Leave the A40 at the signs for Doward and Ganarew and after half a mile look for the turning up the hill and follow the signs to Doward Park Campsite and Biblins. Towards the top of the hill turn right down a gravel track past the entrance to Doward Park Campsite and stop at the parking area nearby at SO547156.

February 21st

Llandrindod Wells
Like most built-up places, Llandrindod Wells in Radnorshire has an assortment of habitats, including the lake, tarmac, mature trees and the river. Meet at the north end of the lake (SO 062606).

March 14th

Llangynog
Meet in the car park in the village of Llangynog, Montgomeryshire (SJ 053262), from where we will examine disused quarries and nearby cliffs.
The Mosses and Liverworts Of Shropshire
You may wish to purchase a copy of "The Mosses and Liverworts Of Shropshire" by Mark Lawley (2013).
It has 133 pages, illustrated, including
a bryological travelogue of good localities
changes to the county's bryoflora
an annotated checklist of species
Shropshire's bygone bryologists
It is available at £19.95 including P&P from Mark Lawley at the address above
Wildlife in the Marches
Mark Lawley's new book "Wildlife in the Marches" (2015) contextualises natural history in the wider scope of social history.
The book can be ordered online from Amazon, or by post from Marches Publications, 12A Castleview Terrace, Ludlow, Shropshire SY8 2NG.
Please make your cheque for £34.50 (which includes £6 P&P) payable to 'Mark Lawley'.